DSC1 – Where to Begin Information Search
Over half (52%) of the respondents begin their information search at an internet search engine; 29% begin at a specific database; 18% begin at the Library catalog.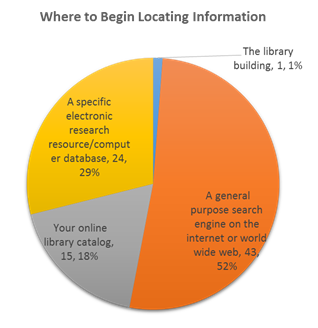 DSC2 – Where to Start a Search with Known Citation
In the scenario of locating a specific piece of literature, most respondents begin at a database search (39%) and visit the Library website (33%).
DSC3 – Where to Begin a Topic Search for Literature
To search for literature on a topic, the respondents start at a specific database (48%), general purpose search engine (28%), Library website (16%).
 
DSC4 – How to Keep Current Awareness
This question presents 10 methods of keeping oneself current. For each method, the respondents rate its importance from 1 (Not at all important) to 10 (Extremely important). Ranked by the average rating, the most important method is Attending conferences or workshops, followed by Regularly skimming new issues of key journals:
Attending conferences or workshops – 7.68
Regularly skimming new issues of key journals – 7.65
Regularly skimming table of contents alerts of key journals – 7.21
Following the work of key scholars – 7.16
Reading materials suggested by other scholars – 6.88
Reading materials rated highly by a relevant repository or scholarly tool – 5.63
Setting alerts for specific relevant keywords – 4.89
Reading or skimming book reviews – 4.68
Reviewing catalogs or announcements from scholarly publishers – 4.46
Following other researchers through blogs or social media – 4.38
Go Back to page

Top
last modified 12 July 2016