Library conducted an assessment exercise in Spring 2013 to help us understand how students and service partners have used and perceived the LC, and to identify areas that require improvement. The findings will be our basis to fine-tune existing provision, develop new services and facilities, and explore new partnerships.
The assessment comprised of 3 parts:
Student Focus Groups in March. We talked to 3 groups of a total of 21 students
Student Survey conducted online and on print form from mid-March to early April. We received 886 responses.
Service Partner Survey in the form of an online questionnaire in April. We received 32 replies
Student Questionnaire | Partner Questionnaire
Data Highlights
Student Focus Groups
Noteworthy comments
LC allows "more freedom to speak and discuss, there is no other place where we can gather together like this. It's unique"
"the interior design inspires me to reflect, it is unlike the Library. Previously I though a library is only a place for studying alone, and now I see that we can learn from each other"
In LC, "I can study, meet friends, get a drink, get inspired, feel free"
Students like the LC for the environment and the facilities:
It has a very good view, it draws in natural light
It is comfortable; the atmosphere in Refreshment Zone is relaxing
It is a place to talk and to meet friends
LC is unique in campus
Apple computers are available
Study rooms allow them to talk
Chairs are comfortable with adjustable height
Tables have good size
Accessible and ubiquitous power sockets
24 hour access
On the shortcoming side, many students commented that it was hard to find seats and study rooms; some inconsiderate users took up more seats than they needed. There were also comments on temperature control and cleanliness issues. Suggestions to improvement include extending the service hour of accessory loan at the Help Desk, install more whiteboards, make more workspace in Classroom B, and place more plants and artworks to make the space more inspiring.
Student Survey
886 questionnaires received:
85% were UGs
9% were Taught PGs
6% were Research PGs
The most popular activities at the LC are self studying, meeting and finding friends, and using library computers. The following charts show how frequently students involved in these activities.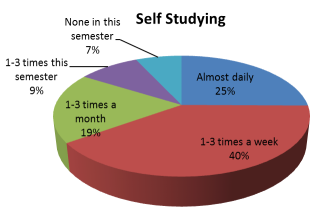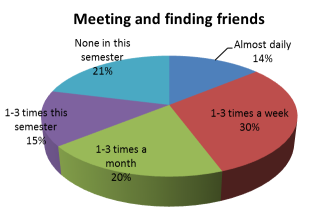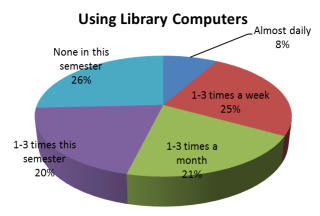 Perceived importance by students was very positive. 90% of the respondents ranked LC overall as "Important" or "Very Important". These aspects received over half of the respondents rating as "Important" or "Very Important":"Overall", "24-hr", "Study rooms", "Open study", "Refreshment Zone", "Classrooms", "Accessory items"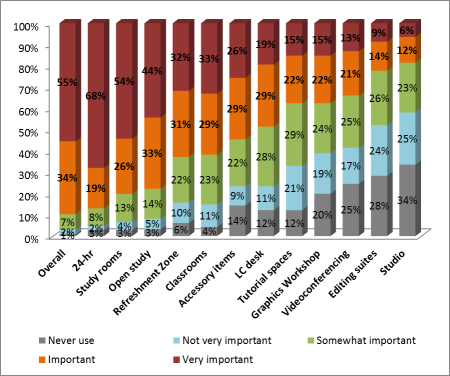 What LC means to students
569 comments were received on this prompt. Students perceived LC as a space with multiple functions: from using equipment for learning purposes, working, studying, meeting peers in different context, relaxing, to being an all-in-one place for campus life.
Selected comments
"In one sentence, I would say learning commons is the fountain of my university life and I can't accomplish much without it. To elaborate, learning commons provides a modern and convenient study environment (e-learning classroom) that boost my learning efficiency, thus I can cope with the hazardous study life in HKUST."
"I am proud of the LC, which I would regard as an indispensable part of the library."
"like my second home"
"It has become part of my university life."
"The learning commons is a new place, where if you're there, you're the 'cool but smart' student. I like the place, but I don't think it's too conducive for studying, because when a group of students nearby or in the refreshment zone discuss and/or talk and whisper, the sounds are easily carried across the room. Which is why I prefer LG3 for individual studying and only move to the learning commons after the rest of the library closes."
"I come here everyday from 09:30 – 2300 and I love spending my time here."
"It is one of the reasons of my good gpa !"
"Essentially all of my studying is done in the learning commons. My GPA would be at-least one letter grade lower if the learning commons did not exist."
"It a nice place to study in the night. Well-lit, a decent amount of people … so you don't get bored or doze off while studying in the night."
"Great place, great design, great view, great studying, half of my experience at HKUST!"
"my place for comfortable study. I like the chairs on this floor so much, much more than the other floors. Also, I spent most of the time in the PC and mac room to do my course work and research. It is very useful to me because I could not bring a laptop to school, unlike other schoolmates."
"A+"
"I spend all my time in Learning commons for study when I have no class. My life !"
The word cloud of the comments shows how students perceive the LC
How LC affects the way students use Library
There were 473 answers that indicated certain change in perception and/or use behavior. In general, because of the LC, students tend to stay longer in Library, visit more often, and feel more positive towards Library. In particular, students found that the LC has changed the Library in these ways:
Not just a place for using books
More computers
More Macs
More space for study
Place to eat
Place to talk
Place to do group work
Selected Answers
"The learning commons makes the Library something more than books. We learn and practice a lot what can't be taught in books. A place makes everyone fully develop."
"aren't they different? Library only means to borrow things while learning common means to study in a silent environment. Learning commons is a nice addition that boost (not replace) the function of the whole library."
"I used to use the library only if I need to search for some information or books. But now, whenever I have free time, I would access it to carry out various kinds of activities."
"It has transformed the way I used to think about library. Now I and my friends can study in groups which is not possible in a library. It is a good place to relax and chat."
"it is a great place to study with friends around! studying alone sometimes is very stressful. it is great to sit with friends and it is convenient to ask for their advice when needed."
"I believe that learning commons is an intergated part of library. I can bring some books from library to learning commons for reference, which is really good to students !"
"I can have group discussion, snacks, a relax and talk with friends or wait for someone, read the free magazine in the refresh zone. And 24 opening hours is really great for me to stay up late to finish a project before the deadline."
"The chairs are very compatible in the Learning Commons. And it facilitate the use of laptops. Since we have the learning commons, I start to go to library everyday. The refreshment zone which allows making phone calls makes my discussion with overseas professors very convenient."
Desirable Services
When given a list of new services and facilities they desired, 819 students chose 1-4 items each, making a total of 2,045 votes: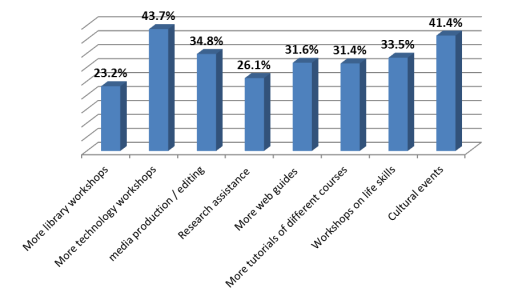 Unpleasant Experience
There were 505 responses to the question. 201 (40%) said there was no unpleasant experience. Common issues raised are noise, shortage of seat/room/computer, seat hogging, cleanliness, improper use of study room, ventilation and temperature.
---
Partner Survey
32 respondents completed the questionnaires: 29 used LC for programs or activities, 3 have not used LC. Majority offered classes, workshops, career development and tutorials.
Overall, partners' events went well at LC: 81% very well; 19% fine; 0% did not work. On the satisfactory rating, none rated on the negative side:
| | Very satisfied | Satisfied | Neutral |
| --- | --- | --- | --- |
| The services | 63% | 37% | 0% |
| The facilities | 52% | 48% | 0% |
| Communication with Library staff | 67% | 30% | 4% |
| Coordination on Library side | 63% | 37% | 0% |
| Technical support | 31% | 58% | 12% |
| Overall experience | 59% | 41% | 0% |
Comments and Suggestions
Library staff was considered very helpful and supportive. A few comments on facilities included operation of audio system, software in Apple computers, and use of particular venues for tutorials.
Selected comments
"Library staff have been very helpful and supportive in assisting our office in organizing staff training programs. They not only facilitated us in reserving the necessary training venues, but also helped in setting up the venues and getting ready the computer equipment. Much appreciated."
"Most library staff did well in setting up the venue in advance and giving clear instructions for how to use the audio-visual equipment. Some may not know so well but they would do as much as possible to help."
Future Activities that Partners will use LC for
small group workshop, mock interviews, small group meet-up with students, one-on-one consultation
student workshops, career activities, student counseling, project meetings, briefing sessions, tutorials
Staff training programs/seminars
Workshops involving hands-on work to be held in one of the Classrooms
research activities
Art classes; short courses (30-40 people)
---
Library Actions
Library responded promptly to the feedbacks. Even before the assessment was completed, we made some relatively easy adjustments in facilities such as adding extra paper towel dispensers and trash bins in washrooms to improve cleanliness. A series of changes were planned and carried out during the Summer of 2013, some were implemented in subsequent Fall semester. Major actions included:
facility review and adjustments, such as temperature control, cleaning schedule, signage, inspirational decor, and space reconfiguration
rules and enforcement, such as room booking rules, communicating rules to users, and patrol schedule
enhancing staff and student helper training on technical support and service quality
The assessment gave the Library evidence demonstrating the high demand of LC-style space. We are working to expand such concept to other selected space in the Library.
Go Back to page

Top
last modified 03 October 2016