Outstanding Student Helpers 2016 Award Ceremony
The ceremony was held on May 5, 2016 at the Library Gallery.
LEE Ho Long, Barry
I am very happy to be selected as one of the "Outstanding Student Helpers" this year. I would like to thank Gabi, Anchovy, LC team and other library staff. They provided me the chance to work in library and taught me different skills to deal with various problems. I would like to give my special thanks to Anchovy. She is a friendly and nice supervisor and can always provide me with help or instructions when I have questions. I just joined the LC team in Fall semester and have the chance of being selected as outstanding student helper. It is a great honor to receive this award but I know I still have a lot to learn. I will continue to do my best to serve the library and help to maintain a friendly atmosphere for the library with other helpers and staffs.
LEE Yik Yeung, Justin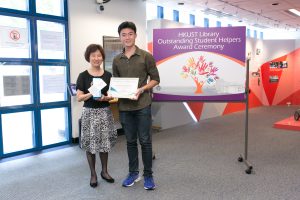 Good afternoon, everyone. Firstly, I am glad to be honored with "Outstanding Student Helper" in this year. I would like to thank HKUST Library for giving us opportunities to make our contributions on service and appreciating my efforts; also, I would like to express my gratitude to all Cataloging staffs, especially Cheryl and Xiaolei who offered me a chance to be one of the student helpers in here and have continuously supported me to familiarize with the job duties. Without their supports and patience, I can say I am not able to have this achievement. This award is a very meaningful to me, because it is not only a simple recognition of my dedicated efforts, but also a part of the remarkable memory of my fruitful campus life. Through being a student helper, I can enjoy the campus life by having a taste on working as an employee, serving other students and making friends in the library. I have acquired lots of skills and knowledge as well, not only the interpersonal skills and the working experience, but also the understanding towards myself. All of these experience and understandings are very valuable for me and they have been an important part of my entire U-life. Finally, again, I would like to thank all of people for their supports and appreciations and these have already made me accomplish a better myself. Thank you very much.
ZU Yuexuan, Vincent
Good afternoon and thank you all for taking your time to share this great honor with me. It is because of your kind and sincere support that I was able to perform professionally in the past year. I can still recall the excitement when I first got the job offer and can also remember I was shy and clumsy on the first day of duty. But over the year, with all your patience and kind help, I was able to improve myself and finally made it to this stage. To be honest, this is the very first real job I have ever had and I was quite nervous in the beginning. But all your kind words and possibly the tasty snacks made me feel welcome and gained confidence step by step. Without any one of you, I would not have been able to learn so much in this experience. So thank you again and wish you all the best. Thank you.
---
Students of Merit
| | |
| --- | --- |
| ANIRUDH Vaishak | KAN Hoi Yin, Derek |
| LEUNG Chung Hei, Samuel | TSANG King Sun, Arthur |
| WONG Chun Wai, Louis | |
Go Back to page

Top
last modified 02 August 2016