Outstanding Student Helpers 2017 Award Ceremony
The ceremony was held on May 5, 2017 at the Library Gallery.
---
Outstanding Student Helpers
CHAN Wai Yiu Lewis (Library Administration Office)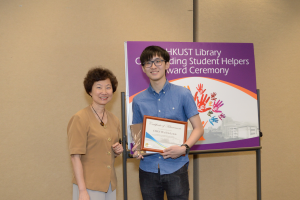 Good afternoon everyone. I am Lewis from administration office. It is my great honor to be selected as one of the outstanding student helper this year. I am so lucky to have the chance to join the library since I was a year 2 student. I would like to give special thanks to Alice, Mr. Leung, Lily and Mandy. During my time here, they taught me a lot and shared their experience with me. With their support and patience, I am able to catch up my job duties in a short period time. Now that I will graduate very soon. I think being a student helper is not just a working experience, but it also encourages me to learn new skills for self-enrichment. I appreciate this unforgettable memory in my university life. I wish you all the best and thank you very much.
CHAN Yun Yin Natalie (Information/Learning Commons)
I am very glad to be honoured with "Outstanding Student Helper" this year. I would like to express my gratitude to Gabi, Anchovy, Iris, LC team and other library staff. Thank you for giving me the chance to join the LC team and work in the library. Without their patience and support, I would not be able to have this achievement. I would like to give special thanks to my nice and friendly supervisor, Anchovy. Her guidance and comments help me to solve different problems I encountered on duty. It is a very precious and enjoyable experience joining the LC team, having a chance to help in maintaining a user-friendly environment for the library and improve my interpersonal skills. Again, I would like to thank all of you for your unlimited supports and appreciations enabling me to accomplish a fruitful university life. Thank you.
KWAN Wng Yee Angela (Technical Services (Cataloging))
Good afternoon everyone. Thank you very much for coming today. I am so pleased and honored to be selected as one of the Outstanding Student Helpers this year. In this special occasion, I would like to express my sincere gratitude and appreciation to all the staff in the library, especially those in the Cataloging Department where I work. As a student, I benefit a lot from our helpful librarians and the comprehensive database maintained by them. And as a student helper, I learn a lot of working skills from them. My supervisors, Cheryl, Xiaolei, Mary, Mr. Lee & Maggie have been guiding me patiently and kindly. Their supports mean a lot to me. Being a student helper in the library is more than just having a part-time job, it allows me to appreciate more of the librarians' work and enrich my university life. As a final year student, I am going to leave UST soon, and reflecting on my time working at the library brings me great joy. Lastly, I wish UST library can maintain its high-quality services and continue to provide effective supports to the faculty and students in the future. Thank you very much indeed.
WONG Ka Man Joanne (Information/Learning Commons)
I am very honored to be selected as one of the "Outstanding Student Helper". I would like to thank the library for this high recognition on my effort. I would like to express my gratitude to my supervisors, Anchovy, Gabi, Iris, and Leo, who have patiently guide and encouraged me along this journey. Thank you for being such excellent teachers and role models for our team. Of course, how could I forget all of my fellow teammates and our lovely security guard, Ming Jie. Thank you all for being there and brighten me up at the counter. I believe that most of us will agree that the library is a second home for lots of HKUST students, it is an invaluable working experience to serve the UST community, to make our second home warm and welcoming. Being a student helper taught me lots, I have not only learn to operate 3D-printers and refill papers, but more importantly, problem solving and patience. Time flies and it nearly comes to the end of my service as a LC student helper. I will certainly bring on what I have learned as a student helper. Thank you.
WU Daihui David (Information/Learning Commons)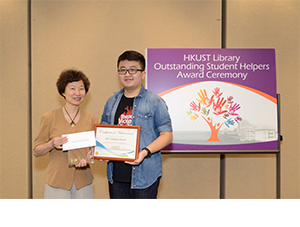 It is a great honor for me to be awarded and I would not be who I am today without help from Anchovy, Iris, Gabi and all other library staff, what you all taught me was not only how to be a helper of library, but also sense of duty, responsibility and patience. I still remember two years ago, at the interview room, Anchovy asked me a question,"why do you want to be a student helper?" I answered"I just wanna contribute to the system which benefited me during the past two years, plus I really want to help to let the learning commons area quiet enough." at that time my friends' impression on this position is just "sitting at the counter and do the homework, then you got 53 HKD per hour" I am glad that I changed their view on us by my actions. I can still recall the feel of honor when I helped someone on printing problem or lost and found, those students thanked you and they know someone they can trust next time. I am saying this is just to tell you what we can contribute, what we should serve, can really improve the library piece by piece, step by step. This service completed my UG life, I am glad and honored to serve in the library.
ZU Yuexuan Vincent (Circulation & Reserve)
---
Students of Merit
CHUNG Yi Ching Serena (Scholarly Publications Databases)

LAM Chi Ching Kenny (Reference (E-learning Team))

NGAI Chui Yee (Library Administration Office)

SIN Chung Yan (Technical Services (Cataloging))

JIO Rina Lookman (Information/Learning Commons)

TSE Wai Ming Vivien (Technical Services (Acquisitions))



Go Back to page

Top
last modified 09 May 2017