Computers in the Library have different settings and serve different purposes:
For Express Use
Use Public workstations for a quick check of the Library catalog, library resources and services.
No login required
They are available on all floors.
For Academic Work
Windows PCs and iMacs are available at the Information Commons (G/F) and the E-learning Classrooms in the Learning Commons (LG1)
They require ITSC account login
Check the software available at different clusters of workstations
Some computers are not equipped with disc drives. Borrow the portable "USB-DVD Drive" at IC Help Desk (G/F) or LC Help Desk (LG1) if needed
Smart desktop scanner is attached to a PC at the Information Commons
You can use the E-learning Classrooms only when they are not reserved for classes
Find vacant stations at the Information Commons using the real-time occupancy map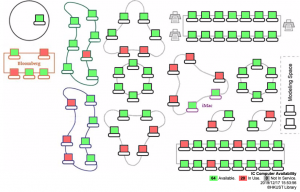 For Using Media Items in the Library Collection
The Reference Standalone Workstation on G/F supports the use of "Hong Kong newspaper clippings index".
The PCs and AV equipment in three Media & Discussion Rooms supports using media items. The PCs require ITSC account login.
For 3D Design, Printing & Scanning
For Using Selected Databases
Bloomberg Workstations
Reference Standalone Workstation
Rules for Booking
Each user can book up to 2 hours per session, 1 session per day, 2 sessions per week, all workstations, 3D printing & 3D scanning service combined.
Reservation may be made on the same day or at most 1 week in advance.
Go Back to page

Top
last modified 22 September 2020