Outstanding Student Helpers 2018 Award Ceremony
The ceremony was held on May 3, 2018 at the Library Gallery.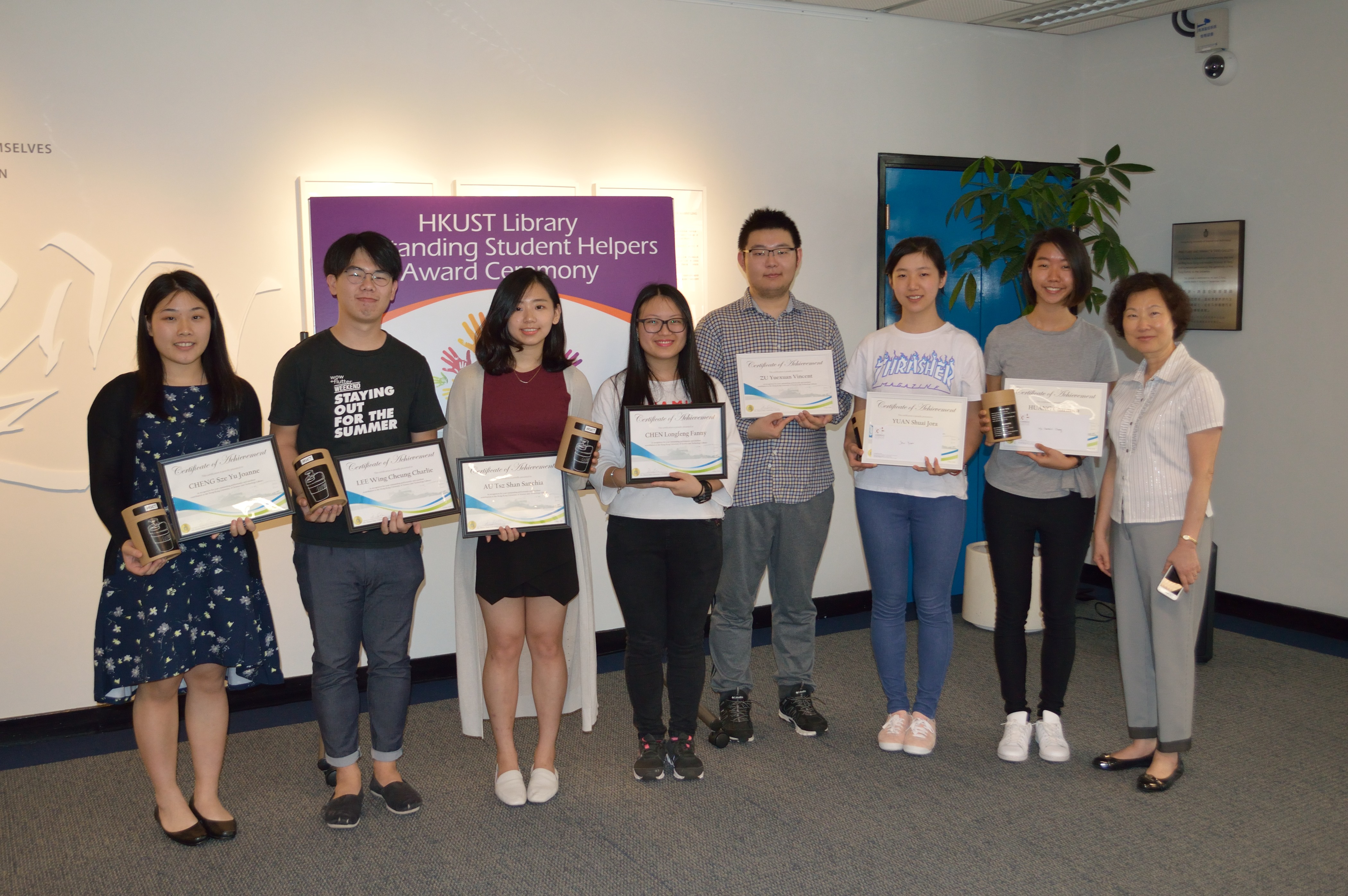 ---
Outstanding Student Helpers
HUANG Charmain (Library Administration Office)
I am very honoured to receive this award. Having worked at the Administration Office since my first semester at HKUST, the Library has become a second home for me. As a student helper, I had the chance to witness the staff's hard work behind the scenes, and it has made me appreciate our library even more. I really learned a lot from this experience, and I would especially like to express my gratitude towards my amazing supervisors: Mr. Leung, Alice and Lily. Thank you so much for your patience and guidance, I really appreciate all of the opportunities and trust you have given me in the past three years. I would not have been able to achieve this without you. Next year I will be in Year 4, and I look forward to working with you all again one last year, as I begin to pass the torch to the next generation of student helpers.
YUAN Shuai Jora (Information/Learning Commons)
Good afternoon everyone. I am Jora, one of the student helpers in the lc team.
Today I am here giving this speech as one of the three outstanding student helpers this year. First and foremost, I would like to express my deepest appreciation to Anchovy, Joanne, Mingjie and all of other fellow co-workers of us. My experience in the library was actually not that special. At first, I came to apply for the job because two of my friends Sam and Cody worked here, I also wanted additional working experience and some small pocket money for maybe my next travel. If we think about this job as a student helper here, nothing requires special skills we learnt from any major courses. Counting people, checking printers and markers, everything is about being careful and considerate. Come to work on time, remember all your shifts, if not able to come, change in advance. To do the job OKAY is very easy!

Upon spending more and more time with the whole team, however, with all the expectations and caring I was given, I start to think, by what means can I do it better? And I find that is not easy at all. Why the place we sit are called the help desk? It is certainly because we help library users. To be helpful, try to smile, not afraid of making mistakes, learning and growing at the same time is the most important thing for us. Also, to appreciate our library team, stop to chat with our co-workers if time allows, enjoy the great atmosphere of working in a warm society, learn more about Hong Kong and other cultures, that's the most precious thing this job has given me.
At last, I, again, want to say thank you for this great experience that make my university life special!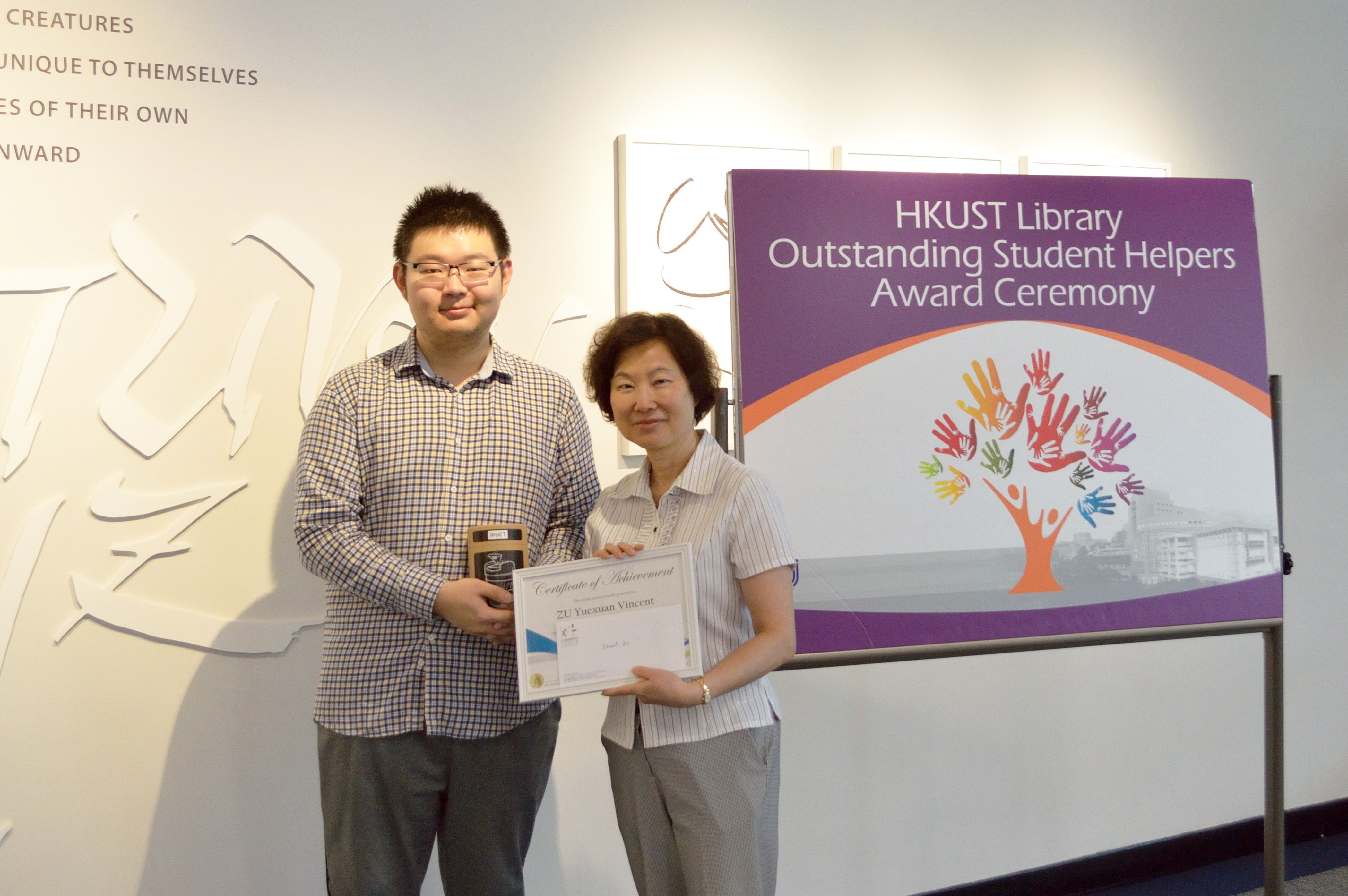 ZU Yuexuan Vincent (Circulation & Reserve)
It is a great honor for me to be awarded and this is possible only with the trust and support of all the staff members. My experience working here has taught me that we have both made an excellent choice by joining this family. Over the past few years, Library has become such an integral part of my University life, not only because I spent time studying and working here (enjoying the view as well), but also because I was fortunate to meet the nice staff members, with whom I feel comfortable sharing my life, and three years just flew by without noticing. Yet in another sense, the years have also been long in that the skills I have polished here will surely be helpful for me in my next chapter of life. Again, thank you all for making my University life more colorful and meaningful and I wish you all the best in the future.
---
Students of Merit
| | |
| --- | --- |
| AU Tsz Shan Sanchia (Circulation & Reserve) | CHEN Longfeng (Technical Services (Acquisitions)) |
| CHENG Sze Yu Joanne (Circulation & Reserve) | LEE Wing Cheung Charlie (Information/Learning Commons) |
| TAM Ip On Andy (Scholarly Publications Databases) | |
Go Back to page

Top
last modified 04 May 2018