Outstanding Student Helpers 2019 Award Ceremony
The ceremony was held on May 9, 2019 at the Library Gallery.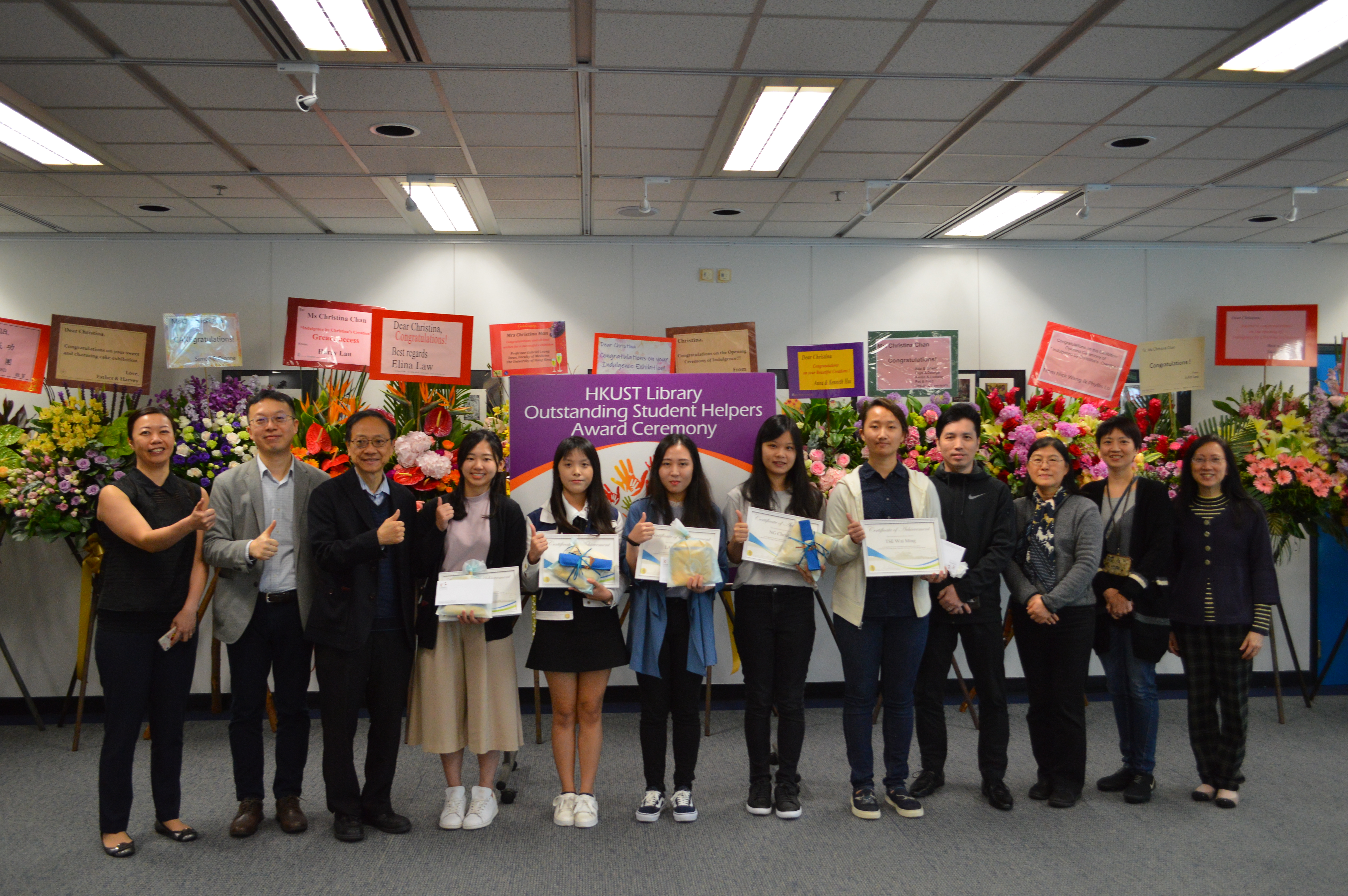 ---
Outstanding Student Helpers
AU Tsz Shan Sanchia (Circulation)
Good afternoon everyone. I'm Sanchia, a final year student now and I've been part the Circulation and Reserve Team since the first term of my freshman year. I am extremely honored to be receiving such a meaningful award. I am so grateful for the recognition. Winning this award would not have been possible without the inspiration and guidance I have received from all the staff and my peer student helpers, for whom I have the deepest respect. Working with the family at the library has been an enjoyable experience, and I really appreciate all the opportunities you have given me in the last four years. Library has been a major part of my university life and I'm so grateful to be part of the family. Though I'm graduating and going on the next chapter of my life, the skills and experience I gained from here will be part of me forever, and I will always be grateful. Again, thank you all for making my university life more colorful and meaningful and I wish you all the best in the future.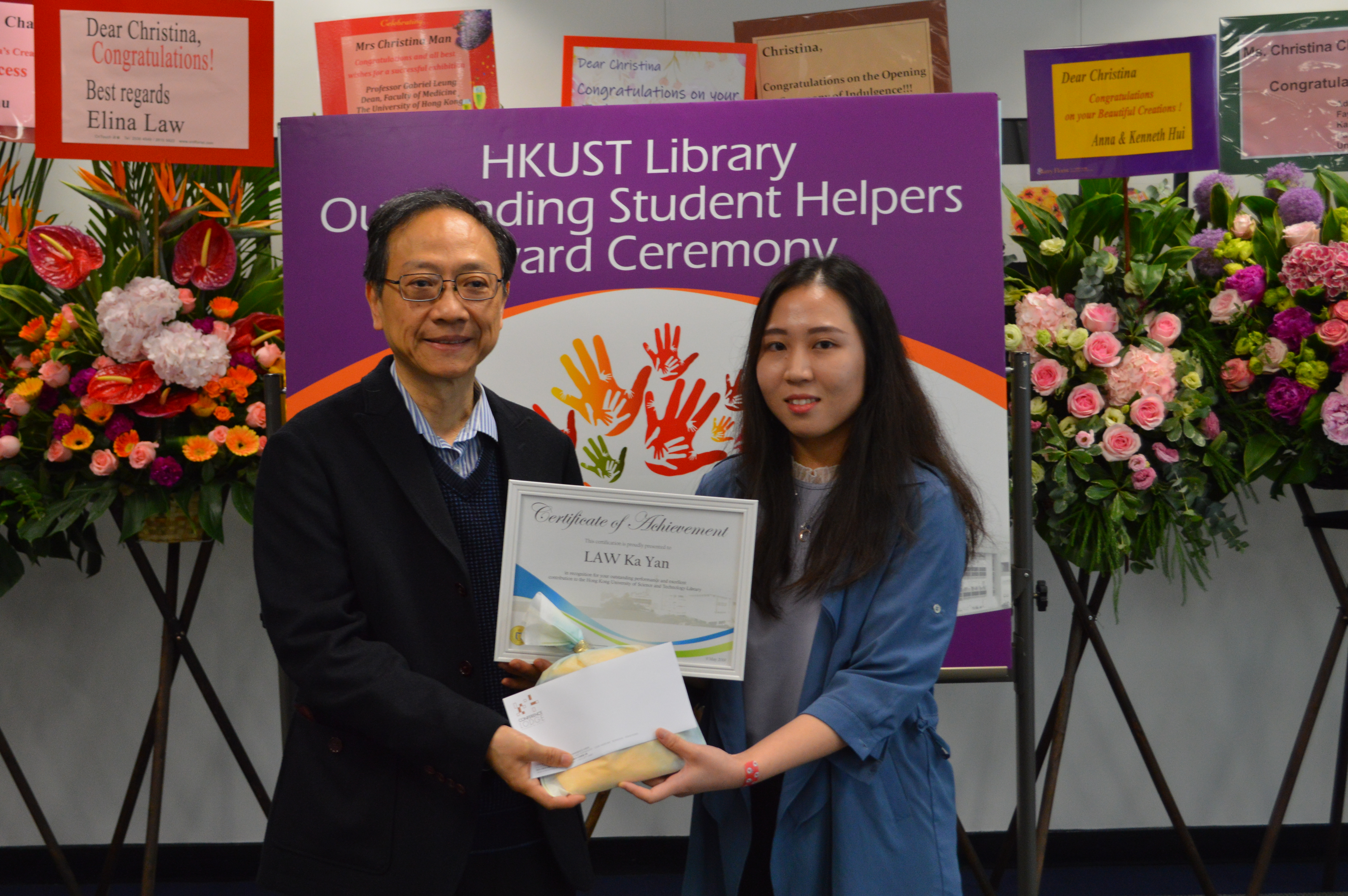 LAW Ka Yan Wendy (Commons & Media Resources)
Good afternoon everyone. I'm so glad and honoured to be awarded as one of the outstanding student helpers this year. I have joined the library since year 2 and it becomes one of the best experience in my university life. In this special occasion, I would like to express my sincere gratitude towards my supervisors: Becky, Katherian, Abby, Christy and all the staffs in the library. Without your patience and kindly support, I would not have been able to solve different problems and complete my duties. Being the student helper for a few years, I witnessed the change of the library and I have also developed a sense of belonging to it. It is a great chance for me to appreciate more of the librarians' work and learn some valuable lifelong skills here. As a final year student, I believe that this pleasurable experience would benefit my coming journey a lot. Again, thank you so much for all of your trust and sharing. I wish UST library and everyone all the best and strive for continued excellence.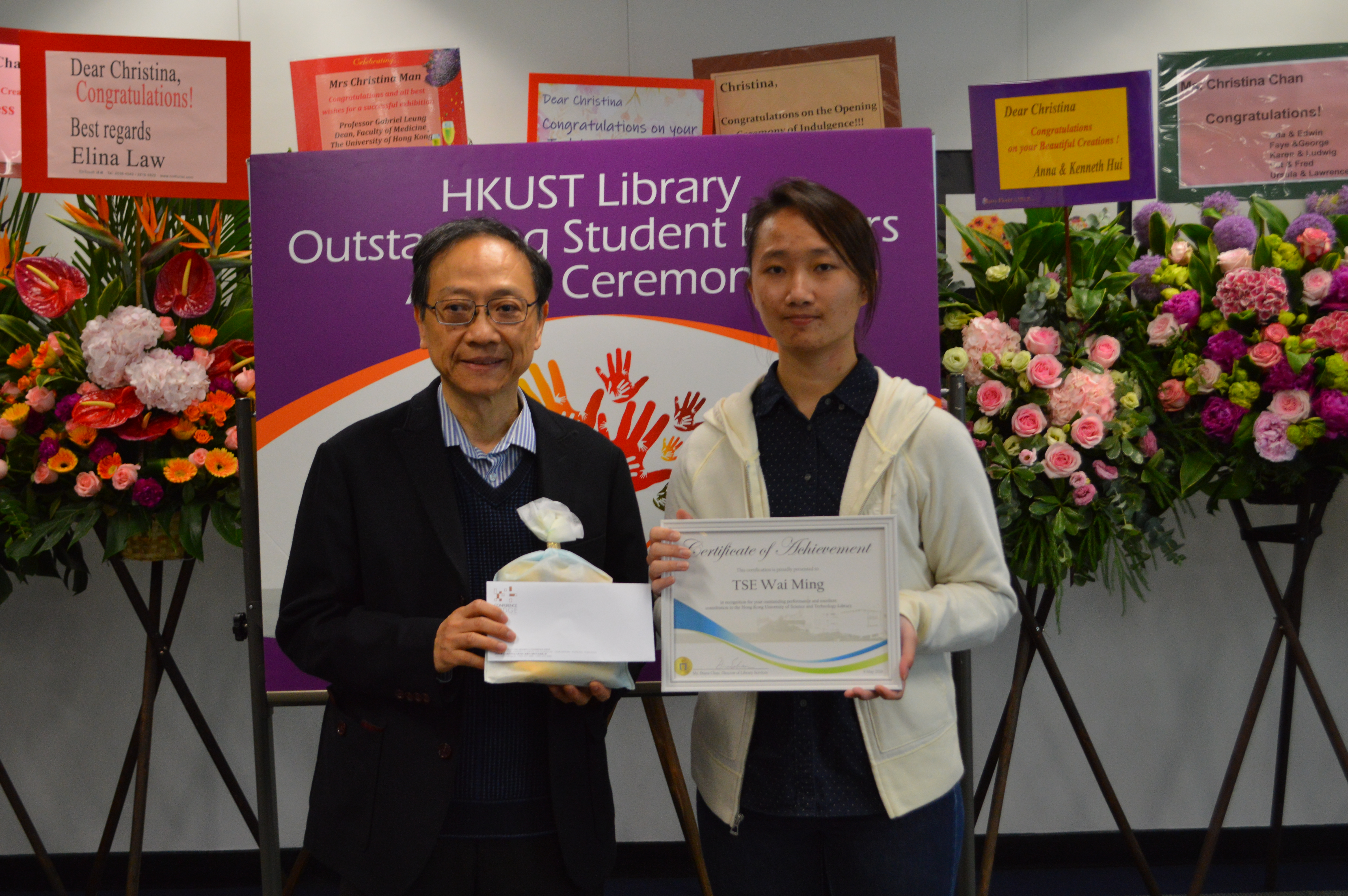 TSE Wai Ming Vivien (Resource Management)
It is my great honour to be award as one of the outstanding student helpers of this year. This is my third year so as the last year to work in the library. I work for the acquisition team from the first day. Yet, at first, I did not know that there are different departments here, not even until I had the interview in the office. I applied for this job with my classmate, but as a story usually goes, she did not get an offer as far as I know. I believe most of the people would only know about the circulation team. However, the acquisition team is also important by working as a back office. A library cannot run without team cooperation. It is my pleasure to make a little contribution and be a small gear in a system. I would also like to take this opportunity to thank my acquaintance for the help in the past few years. Thank you.
---
Students of Merit
CHAN Wing Fan Tammy (University Archives & Special Collections)

NG Cheuk Yu Cherry (Resource Management)

MOK Hing Ying Stacey (Circulation)

NG Sze Wai Winnie (University Archives & Special Collections)
Go Back to page

Top
last modified 15 May 2019