Introduction
The Library has offered a roving service to provide timely assistance to the users since spring 2016. In 2017-18, 6,037 transactions were recorded during 197 roving days. In order to measure the effectiveness of this service and enhance the service model if necessary, the Library decided to conduct a survey and hold focus group meetings to collect users' feedback in spring 2018.
Survey
A survey was conducted from mid-Feb to early March. 147 filled questionnaires were received.
99% of respondents agreed that Roving Service is helpful.
99% of respondents were satisfied with Rovers' service.
97% of respondents were willing to refer friend to approach rover.
Compliments from respondents:
Great support and staff
Very good
Very helpful staff
I wouldn't know how to navigate my way around the library without the helpers
He explained everything to me very clearly.
Focus Groups
3 Focus Group Meetings were held in April 2018. 26 students (19 UGs and 7 PGs) participated.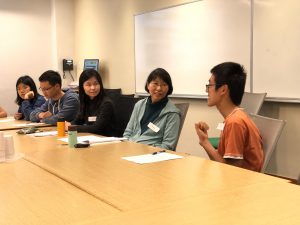 They shared with us their experiences in using the Library Roving Service, and helped us understand their needs and preferences.
Actions Taken After Evaluation
Extend service time to one more hour from 12-4pm to 12-5pm in response to users' service needs.
Add fixed spot on LG3 and LG4 so that users can catch the rover if needed.
Set up mobile station on LG3 and LG4 to improve the users' awareness of the service. Signage with roving service hours and contact information is posted on the mobile station.
Adopt a flexi-model of adjusting the schedule according to the demand of the service during different periods of the term.
Expand rover's role to perform patrol duty when they are walking around to address noise and seat hogging issues and thus to maintain a quiet and pleasant Library environment for their study.
Go Back to page

Top
last modified 04 October 2018