Date: 16 April – 13 November 2015
Venue: Hong Kong Chiu Chow Chamber of Commerce Ko Pui Shuen Gallery, 1/F, HKUST Library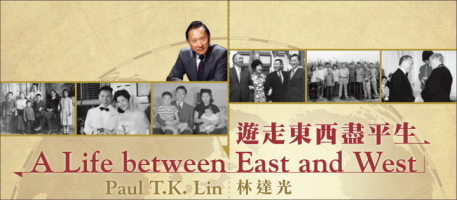 Professor Paul Ta-Kuang Lin (1920-2004) was a prominent scholar, historian, and a remarkable activist who dedicated his life to the rise of an independent, democratic and prosperous China. Growing up as a Canadian born Chinese, he was educated in Canada and the United States before moving to the newly established People's Republic of China in 1950, and staying there for fifteen years. In 1964, he returned to Canada to share his experiences in the New China and to advocate for rapprochement between China and the West. Throughout his life, he took keen pleasure in having made different sorts of contributions to the establishment of relations between China and the West.
"I was a son of Canada as well as a son of China", he proudly claimed (Preface, In the Eye of the China Storm).
Professor Lin spoke at many occasions, wrote for newspapers and periodicals, and was frequently interviewed in the media. He passed away in 2004 and left behind many manuscripts, correspondences, books and news clippings, etc. In 2007 and 2015, his wife, Mrs. Eileen Chen Shu Lin, donated most of the personal collection of Professor Lin to the HKUST Library.
This exhibition presents some of the key documents and books donated by Mrs. Lin, which are organized in four distinct yet interrelated stages:
Family and growth
Life in the New China
Academic activities
Bridge between China and the West
We hope this exhibition will deepen your understanding about the exceptional life of Professor Lin.