To find space and facilities in the Library for video conferencing, Skype meetings and interviews, you may choose:
Interview Room
The room has equipment for web meetings
Also suitable for one-on-one interviews
Check the schedule for availability
Each student or staff can book up to 2 hours per session, 1 session per day, 2 sessions per week
Reservation may be made on the same day or at most 2 weeks in advance.
You can reserve the room using this Request Form (staff mediated, Mon-Friday, 9am-5pm).

If your request is for after office hours, please make the request during office hours.
If your request is for a weekend or a holiday, please make the request on a working day prior to it.
VR Goggles
Webcam and Speakerphone Set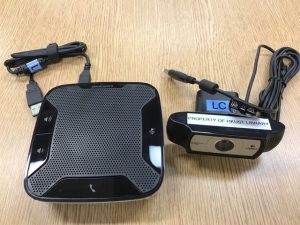 Suitable for small group web meetings
Available for borrowing at the LC Help Desk; to be used in the Library only
Users should find a study room separately to use the set
---
Go Back to page

Top
last modified 05 September 2023