On 25 August 2022, the White House Office of Science & Technology Policy (OSTP) released a memorandum on "Ensuring Free, Immediate, and Equitable Access to Federally Funded Research" calling on federal agencies to ensure federally sponsored research in the form of scholarship and research data will be available free of charge without delay. How will this memo be affecting publishing, Open Access science, and HKUST researchers?
Summary of the 2022 Memo
The policy change to provide free, immediate, and equitable access does not happen overnight. The 2022 memo builds on the original 2013 memo that pushed agencies to increase public access.
The key requirements in the new guidance are:
Coverage of all US federal agencies with R&D expenditures
Expands the scope of current federal policy from 20 agencies with more than $100 million in annual research & development expenditures to an estimate of 400+ agencies.
Removal of the current 12-month embargo period
Scholarly publications will be made publicly available immediately, at no cost to the public, by default, in agency-designated repositories.
Coverage of underlying scientific data
Research data underlying the conclusions of scholarly articles will be immediately available in an agency-designated repository at the time of publication.
Improve scientific research integrity
Includes new provisions to improve scientific research integrity, including making appropriate metadata available at the time of publication, and promotes the use of persistent identifiers for all research outputs, for example, ORCID IDs for authors and digital object identifiers (DOIs) for all research outputs.
Impact of the Memo
Since the new policy will be applicable to all scholarly publications authored or co-authored by individuals or institutions resulting from the US federally funded research, It is important to note that HKUST researchers, as well as any other researchers who collaborate with US institutions, are subject to the requirements set by the funding agencies.
Here are a few points to consider regarding the impact of this policy:
When will my research be affected?
This memo is directed at federal agencies, which have been given a timeline to develop new, or update existing public access plans. It is expected that final policy updates from each agency will be released by the end of 2024, with an effective date of no later than 31 December 2025. Some individual agencies may release updates sooner than this timeline.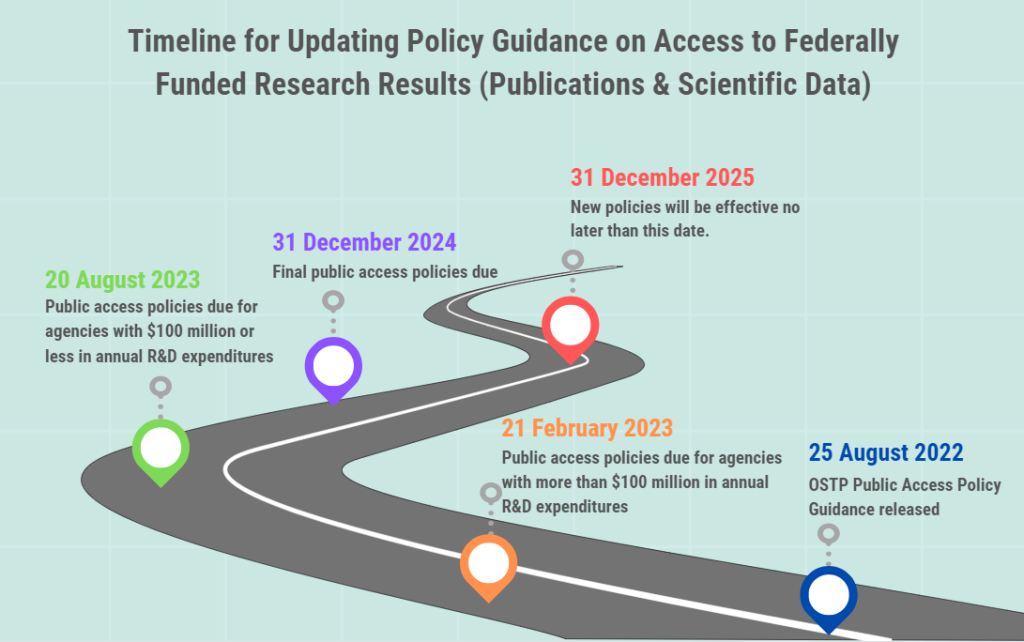 While new plans are being developed, you can check the following links for the current public access policies in place at major funding agencies.
Public Access (PA) Plans of U.S. Federal Agencies: This page provides links to the plans published by federal agencies subject to the OSTP memo (to the 2013 memo, so far). There are 20 agencies in total.
Sherpa Juliet: A searchable database of information about funders' policies and their requirements on open access, publication, and data archiving.
Which of my research outputs will be affected?
The 2022 memo indicates that plans developed by federal agencies should address both "peer reviewed scholarly publications" and "scientific data."
Peer-reviewed publications include "peer-reviewed research articles or final manuscripts published in scholarly journals". In addition, the guidance indicates that agencies may include peer-reviewed book chapters, editorials, and peer-reviewed conference proceedings."
Scientific data include "the recorded factual material commonly accepted in the scientific community as of sufficient quality to validate and replicate research findings. Such scientific data do not include laboratory notebooks, preliminary analyses, case report forms, drafts of scientific papers, plans for future research, peer-reviews, communications with colleagues, or physical objects and materials, such as laboratory specimens, artefacts, or field notes."
Do I have to pay for gold Open Access for my papers?
The memo specifically states that researchers can, by default, deposit their publications (e.g. final peer-reviewed manuscripts) and data to agency-designated repositories to meet the public access requirement, yet some scholars have raised concerns that this may lead to a shift towards the gold Open Access model, in which authors pay an article processing charge (APC). This shift could be inequitable for early-career researchers, researchers at smaller institutions, and those in underfunded disciplines.
Although the 2022 memo does not take a position on specific business models used across the scientific and research publishing industry, it recommends that agencies allow researchers to include reasonable publication costs and costs associated with submission, curation, management of data, and special handling instructions as an allowable expense in all research budgets and define what is considered "reasonable" in their own public access plans.
"Public Access" vs "Open Access"
It is important to note that the 2013 and 2022 memos use the term "public access" rather than "open access." While there is no universally accepted definition of "open access," the distinction between the two terms is generally understood to be the difference between "free to read and download" (public access) and "free to read, download, and reuse without functional restrictions" (open access). Open access is therefore broader than public access.
Actions to Support Open Access
Making research publicly accessible helps to increase the reach and impact of research, as well as promote transparency and integrity in research. It also enables researchers to build upon the work of others and facilitate the creation of new knowledge and evidence-based policy making.
At HKUST, the Institutional Repository (SPD) serves the key function for storing and sharing faculty research. If peer-reviewed manuscripts are available, they are added to the relevant publication records.The Library also supports and provides research data management infrastructures, including the DataSpace@HKUST (the institutional data repository) and DMPTool@HKUST for data management planning.
The new OSTP memo may have a ripple effect on publicly funded research on a global scale, including our regional policies in future. To prepare for the potential change and to support open access, HKUST researchers can take a number of actions, including:
Stay informed about funding agency developments
As part of the research process, plan for data management and sharing
Manage authors' rights and versions of publications
When signing a publishing agreement, be sure to read it carefully to ensure funding compliance and to protect your own authors' rights
Keep track of different versions of your articles and deposit the final peer-reviewed manuscript in the Institutional Repository upon acceptance
Additional Resources
To learn more about this topic, you may visit these sites and blogs:
White House Office of Science and Technology Policy (OSTP)
SPARC – A non-profit advocacy organization that supports open and equitable systems for research and education
Scholarly Publishing and Library Communities
– By Jennifer Gu, Library
Hits: 232
Go Back to page

Top
published February 9, 2023