In this week Research Bridge post, we will introduce a new visualization tool developed by the Curtin Open Knowledge Initiative (COKI) for open access evaluation.

Open Science has gained momentum over the last decade. More funders and research institutions have now adopted open publication mandates, and researchers are increasingly expected to pursue open science in the form of open access publications and data sharing. Funded by the Andrew W. Mellon Foundation and Arcadia, the Curtin Open Knowledge Initiative (COKI) promotes openness in research and knowledge creation. One of the objectives is to develop tools and data that help to understand how effectively universities are operating as open knowledge institutions. In April 2022, COKI has launched the Open Access Dashboard, a visualization platform that tracks global open access; it provides insights into open access status of publication for 142 countries and 5,118 institutions around the world. Countries and institutions that have at least 1,000 research outputs are included in this dashboard.
DATA SOURCES
The dashboard draws in data from its COKI Open Knowledge Dataset which captures over 12 trillion data elements derived from Microsoft Academic Graph, Crossref, Unpaywall, Research Organization Registry (ROR) and OpenCitations. This dataset is free to download and reuse; complete technical details including dataset release, license, attributions and dataset schema are available at https://open.coki.ac/data/ and Github.
OA DASHBOARD
You can navigate and search the dashboard by countries or institutions; the dashboard will show you (i) the research output counts, (ii) number and (iii) percentage of accessible outputs published between 2000 and 2021. For example, HKUST has about 28% research outputs published on open access; the OA status of other institutions in Hong Kong are also listed below. You can perform similar searches and compare figures across countries too.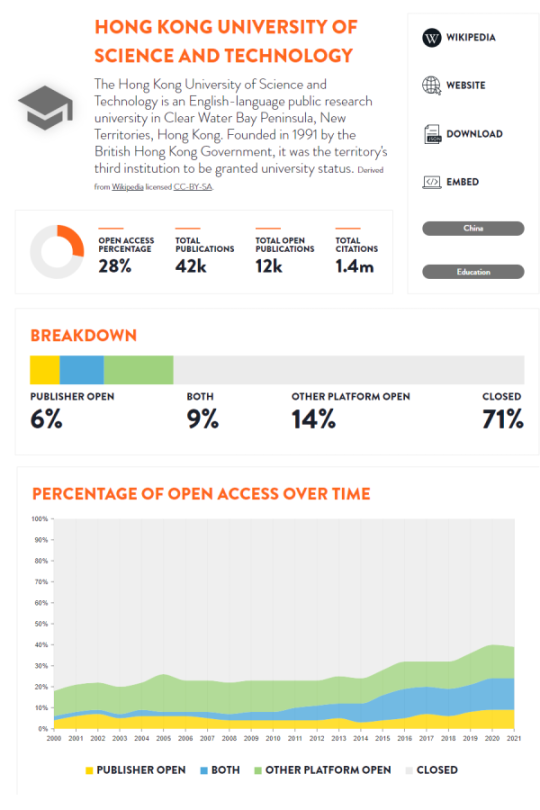 Open Access Status (2000-2021) of Hong Kong Higher Institutions
(Source: COKI OA Dashboard / Data Updated: May 1, 2022 )
LIMITATIONS
Besides showing OA status and trends, the dashboard can be used to compare open access routes via publisher websites and via repositories for institutions/countries. However, it should be noted that the dashboard only covers research outputs with a valid digital object identifier (DOI), but there is still a substantial amount of scholarly works that are covered by other identifier systems such as handle system and uniform resources name (URN), and the scope is also restricted to research publications only. For now, the dashboard only offers limited features, but it is under ongoing development and more features will be added. You may follow COKI on Twitter for the latest development of the dashboard.
RELATED POSTS ON OA
– By Kevin Ho, Library
Hits: 82
Go Back to page

Top
published May 12, 2022