What would you do when you discovered you have submitted an article to a predatory journal? Is it possible to request the publisher to retract an article because it was submitted without the consent or knowledge of other co-authors? If you are interested in knowing more about publication ethics and misconduct, you may consider visiting the Committee on Publication Ethics (COPE) website.
COPE is a charitable company registered in the UK, providing guidance and practical resources to support and promote integrity in research and its publication. Its history dates back to 1997 when the first COPE informal meeting was held. A group of medical journal editors gathered to talk about cases of misconduct from fraud to authorship disputes and exchanged views on how to handle these cases.
COPE CASES
By now, COPE has over 600 cases in a searchable database, covering topics such as allegations of misconduct, data and reproducibility, intellectual property and peer review processes. Cases are submitted by members and discussed during the quarterly COPE forum. All cases are anonymized with details of the story, advice from the Forum, and follow up information.
Going back to the question about what to do with when you unintentionally submitted your manuscript to a predatory journal. There is a case Withdrawal of accepted manuscript from predatory journal in COPE that may serve as a good reference. It gives an account of how the author discovered the journal was predatory, the problems she met and how she handled them. Eventually, she could proceed with submitting the article to a legitimate journal and avoid being questioned for duplicate publication.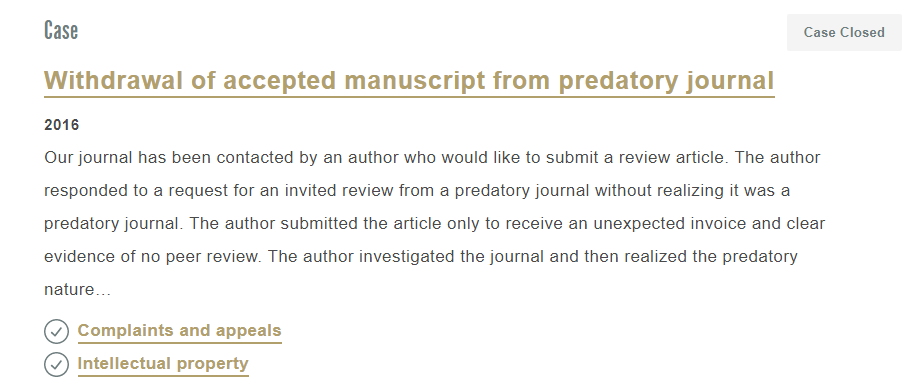 COPE FLOWCHARTS
The website also provides other resources, e.g. flowcharts, guidelines, news and research reports on publication ethics. The flowcharts are designed like visual decision trees to guide editors in dealing with various ethical issues in publication, such as suspected peer review manipulation and authorship problems. Authors and researchers may also find them useful because the investigation process very often involves the submitting authors. The charts are available in multiple languages and the complete set can be downloaded as one PDF.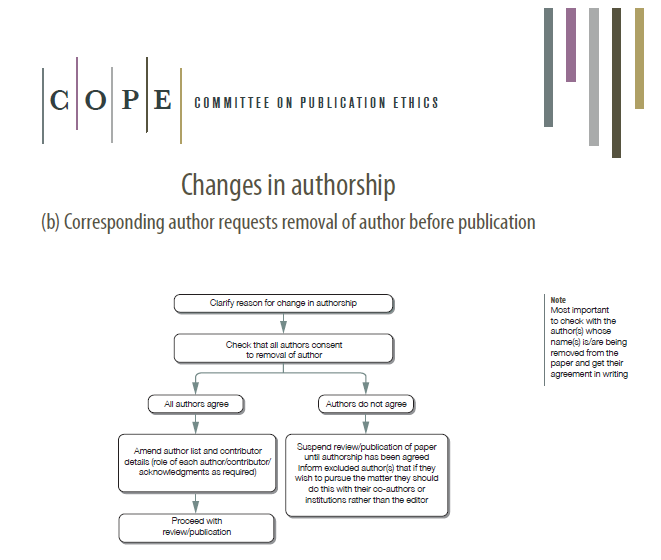 MANAGEMENT AND MEMBERSHIP
COPE is governed by the Trustee Board officers and operational activities are taken care by the Council members. Among them are professors, researchers and people involved in academic publishing.
In terms of membership application, principles of transparency and best practice for scholarly publications are some of the evaluating criteria. A database is available to search for COPE member publishers and member journals, which contains over 12,000 records. To name a couple of them, there are Elsevier with over 1,800 member journals, and Springer Nature with more than 2,900 member journals. You may find out whether the journals you usually submit to are COPE members.
By Poon Sau Ping, Research Support Services, Library
Hits: 5170
Go Back to page

Top
published May 19, 2020
last modified March 11, 2022