Join us on 11 April for an online talk with Dr. Mia Ridge, British Library's Digital Curator. This talk will explore how AI and machine learning are changing information process and generation in libraries, archives, and museums.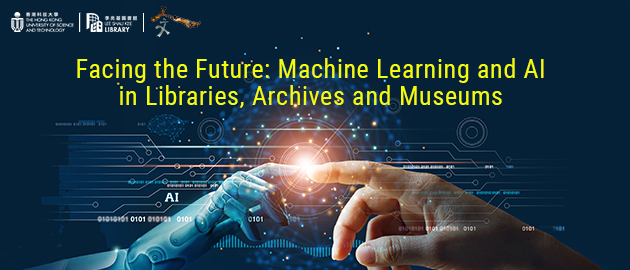 Title
Facing the Future: Machine Learning and AI in Libraries, Archives, and Museums
Speaker
Dr. Mia Ridge, Digital Curator for Western Heritage Collections, British Library
Time
4:00 pm – 5:30 pm, Tues 11 April 2023 (HK Time, UTC+8)
Venue
Online via Zoom
Registration
https://lbcube.hkust.edu.hk/ce/index.php/event/9373/

Note: Zoom meeting ID and passcode will be sent to registrants at 5pm, one day prior to the event.

Audience
Open to public
About the Talk
Every week brings a new headline about AI, or 'artificial intelligence'. Major search engines and social networks are competing to integrate AI, despite serious concerns about inaccurate results from AI chat bots.
In the last year alone, significantly improved AI, machine learning (ML) and data science tools have changed how information is processed and generated. ML and data science methods have the potential to connect library collections, and to enable better discoverability and support innovative research. But libraries, archives and museums (GLAMs) face challenges in finding resources to meet AI-hyped expectations, and in implementing new forms of information provenance and digital preservation. How will changes in AI externally change expectations about GLAMs? And how can we build on what we already know about the role of technologies in cultural organisations to think strategically about integrating AI into GLAM work?
About the Speaker
Dr Mia Ridge is the British Library's Digital Curator for Western Heritage Collections. As part of the Library's Digital Scholarship team, she helps enable innovative research based on the British Library's digital collections, offering support, training and guidance on applying computational research methods to historical collections. She is a Co-Investigator on the Living with Machines project, where she leads public engagement with digital scholarship and heritage collections through crowdsourcing. She is currently co-curating the Living with Machines exhibition with Leeds Museums and Galleries, at Leeds City Museum July 2022 – January 2023. She is a member of several project advisory boards in the fields of digital humanities and digital cultural heritage, and has undertaken peer review for a range of journals and conference programmes. Mia's research on aspects of human-computer interaction and digital cultural heritage, particularly on crowdsourcing in galleries, libraries, archives and museums, has an international reputation.
Hits: 112
Go Back to page

Top
published March 17, 2023