The ranking results show that Hong Kong performs the best in market sophistication and creative outputs, whereas the weakest performance is in knowledge and technology outputs.

The 12th GII was co-published by WIPO, Cornell University and INSEAD. It ranks the innovative performance of 129 economies based on 80 indicators. The report consists of several major sections: Key Findings, The Global Innovation Index, Theme Section on Creating Healthy Lives, Profiles & Data Tables of the 129 economies. To navigate through this 421-page report, users can browse the content by chapter or by economy profile.
Key Findings on Global Innovation
Seven key findings related to global innovation development are expounded in GII 2019 report. The "Key findings in brief" provides an overview of them.
"1. Amid economic slowdown, innovation is blossoming around the world; but new obstacles pose risks to global innovation.
2. Shifts in the global innovation landscape are materializing; some middle-income economies are on the rise.
3. Innovation inputs and outputs are still concentrated in very few economies; a global innovation divide persists.
4. Some economies get more return on their innovation investments than others.
5. Shifting focus from innovation quantity to innovation quality remains a priority.
6. Most top science and technology clusters are in the U.S., China, and Germany; Brazil, India, Iran, the Russian Federation, and Turkey also make the top 100 list.
7. Creating healthy lives through medical innovation requires more investment in innovation and increased diffusion efforts."
Selected Global and Regional Rankings
The report contains plenty of ranking data analyzed by region or income group. The following are some highlights.
Top 5 ranked economies: Switzerland, Sweden, U.S., Netherlands, U.K.
Top 5 ranked economies in the SEAO region (South East Asia, East Asia, and Oceania): Singapore, the Republic of Korea,

Hong Kong

, China, Japan.
Top 5 science & technology clusters: Tokyo-Yokohama,

Shenzhen-Hong Kong

, Seoul, Beijing, San Jose-San Francisco.
Top 3 innovation economies by region (see below).

Conceptual Framework of the Index
GII measures the innovative capabilities of individual economies using a mechanism that goes beyond the traditional way of assessing research article numbers and R&D expenditures. Emphasis is placed on evaluating the climate and infrastructure for innovation.
Brief explanation of the framework
Resulting scores are based on the Input Sub-Index and the Output Sub-Index. These two indices cover seven broad areas such as Institutions, Market Sophistication, and Creative Outputs, which are named as pillars. Under each pillar are sub-pillars, and under each sub-pillar are indicators. There are altogether 80 indicators from over 30 sources including World Bank, IHS Markit, UNESCO and QS. Details are available in Appendix III Sources and Definitions.
Example: Date Table of Hong Kong (view full table in GII 2019 Hong Kong Profile)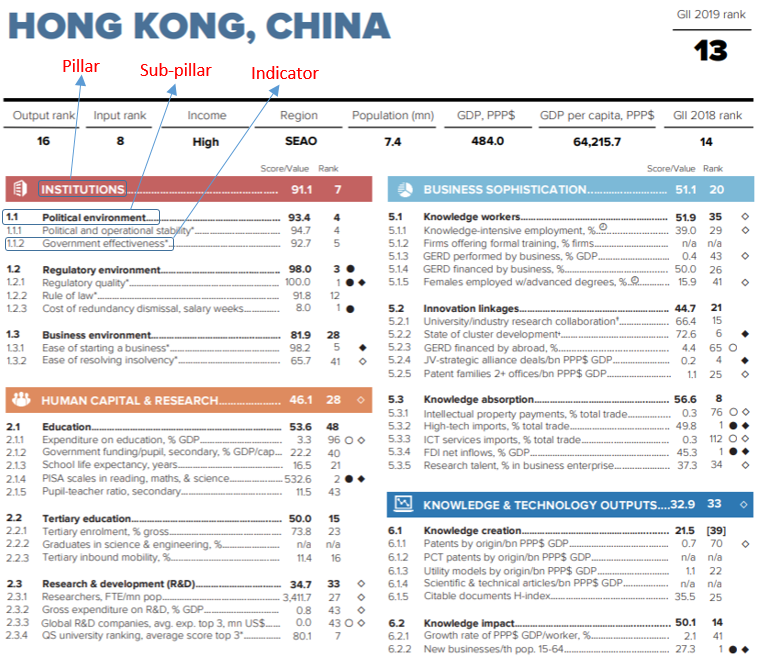 A Closer Look at Hong Kong's Performance
Hong Kong ranked 13th in the global ranking and 3rd in regional ranking, which is very encouraging. However, taking a closer look at the data tables, we see Hong Kong need to catch up in some core spheres when compared to Singapore (1st) and the Republic of Korea (2nd) in the same region. They include Knowledge creation, Gross expenditure on R&D, FTE researchers (per million population), Knowledge workers and more. Thus, the high rankings may not accurately reflect Hong Kong's level of innovation capability.
Indeed, the Global Competitiveness Report 2019 complied by the World Economic Forum also indicates that "Hong Kong's biggest weakness is undoubtedly its limited capability to innovate. With a score of 63.4 (26th), it lags behind Singapore (13th) by 12 points." *
Nevertheless, as our Government is investing more money into enhancing innovation and technology industry, along with the development of the Greater Bay Area, Hong Kong may continue to steadily improve in innovation outputs and turn its weaknesses into strengths.
*Source: Regional and Country Analysis, The Global Competitiveness Report 2019, Chapter 2, p.16.
— By Poon Sau Ping, Research Support Services, Library
Hits: 9979
Go Back to page

Top
published September 14, 2020