We are pleased to roll out our Researchers' Series Special Topics with the theme of Open Metadata & Research Process. Sign up for the sessions today!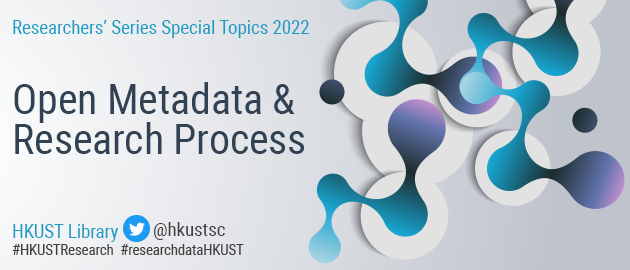 Metadata of scholarly works includes the publications' titles, abstracts, authors, reference lists, citation lists and so on. Open scholarly metadata provides us with a lot of potential for the development of innovative applications that support the discovery of scientific literature and the overall research workflow.
On 14 Oct (Fri), we will have our first seminar led by Mr. Aaron Tay, Data Services Lead from Singapore Management University Libraries. In the talk Aaron will provide an overview of the state of open scholarly metadata and introduce how it has been used for the development of innovative discovery tools such as scite.ai, researchrabbit, and Elicit.org.
Then in November, we will have two more talks. On 9 Nov (Wed) Dr. Ludo Waltman, Professor of Quantitative Science Studies at Leiden University, will walk us through the journey towards achieving full openness of all citations in the scholarly literature. Ludo will also reflect on ways in which openness of publication metadata can be improved and will discuss how each of us, working as a student, a researcher, a librarian, or an administrator, can contribute to this.
Lastly, on 23 Nov (Wed) we will invite Dr. Cameron Neylon, Professor of Research Communication at Curtin University, to share his insights on the shifting landscape of open science and research evolution. Cameron will guide audience to some of the tools and resources that they can use to try and predict how job applications, grant proposals and success will be judged when it matters to them.
All three seminars will be conducted online via Zoom and HKUST staff and postgraduates are welcome to join. The seminars consist of speakers' presentations as well as discussion and Q&A. For enquiry, contact Library Research Services via email at lbrs@ust.hk.
We look forward to seeing you online at the events. Please also follow us on Twitter @HkustSc and join the discussion using hashtags #HKUSTResearch #researchdataHKUST
– By Research & Learning Support, Library
Hits: 244
Go Back to page

Top
published October 6, 2022