The Library is now trialing scite.ai, a smart citation index that displays the context of citations and classifies their intent using AI. Read the blog to learn how it works and its key features.
Put Citations in Context
A few time-honoured methods for assessing publications/scholars' impact, such as journal impact factor and h-index, are largely dependent on a mere count of citations. To understand the purpose of a citation made in a paper, researchers may still have to manually skim through each paper and go to check relevant in-text citations. As nearly 3 million scientific papers are being published every year, locating and reviewing large amount of literature can be overwhelming to researchers.
Going beyond a count of total citations, Scite is introducing a Smart Citations index that attempts to surface the purpose of citations. It allows users to see where and how a publication has been cited by providing the context of the citation and a classification describing whether it provides supporting or contrasting evidence for the cited claim.
Access Scite
HKUST members now have trial access to scite's Premium+ package until 3 Jan 2022.
To gain premium+ features, you will need to create your own personal account. You may register with any email of yours through the link provided above.
Shall the Library subscribe to this platform after trial ends? Share your comments with us using this feedback form!
Ways to Use Scite
Here we highlight a few ways to make use of scite to the fullest:
Identify key arguments in a topic: Search for papers in a topic, then sort the result by the most supported or most contrasted (Figure 1). This way, the papers at the top of your lists should help you engage with your topic with more depth.
Assess if a paper is strong in research method or findings: Filter citations by the sections they were made. A paper cited mostly in the method section is likely to contribute to scholarship differently from a paper cited mostly in other sections.
Perform Reference Check to let you easily see if any references in a document have been disputed or retracted (Figure 2). Tip: You can run a reference check for references in your manuscripts.
Create Custom Dashboards to better evaluate research topics and fields.
Chrome plugin (free): Allows researchers to see how works are being cited when they're reading an article online through their browser extension.
Figure 1. Perform a simple search on "Social Anxiety Disorder", then sort the results by "most supported" citations.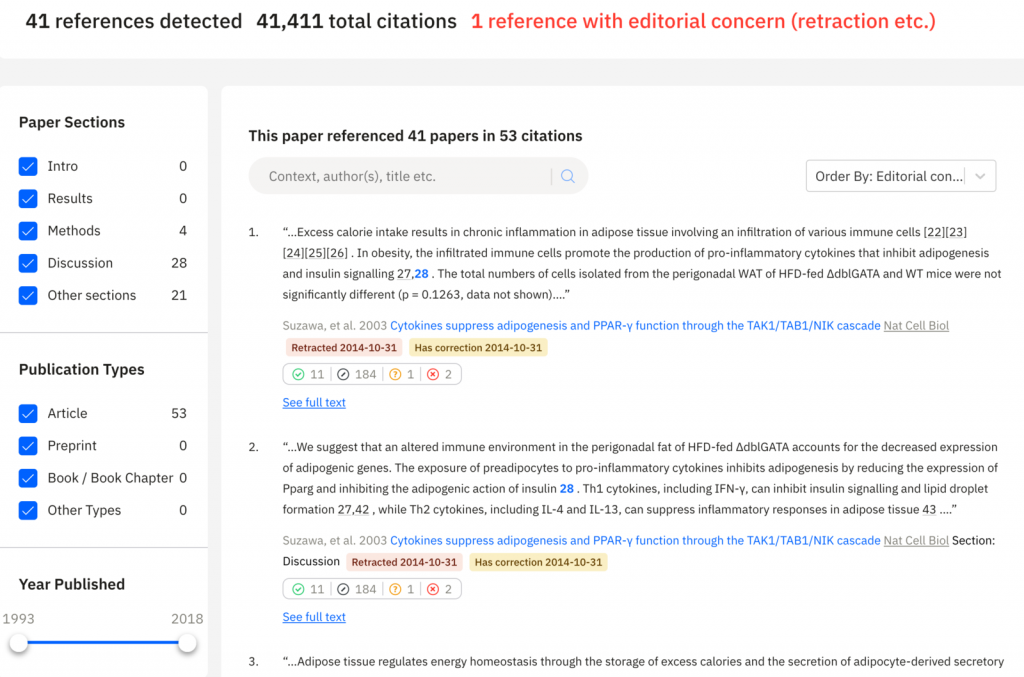 Figure 2. Reference Check output showing how the uploaded manuscript cites each of its references, along with other information about each reference (editorial notices, highly contrasted, and so on.
Try it out. You may find other uses of citation contexts information for your fields or your specific research topics.
Limitations
Lastly, as a new tool that was launched only for two years, scite by all means is not perfect and there is room for development. We'd like to point out a couple of limitations of scite as noted by the developers.
Size of the database: To date, scite has analysed over 26M full-text articles and extracted and analysed nearly 900M citation statements. However, it is estimated that there are 80M papers in existence. Although Scite is expanding its lists of sources by signing agreements with publishers, unsurprisingly, not all articles can be accessed or catalogued, and not all file formats can be easily processed by AI.
Classification of the citations: One size does not fit all. Classifying citations into three types (mentioning, supporting, and contrasting) can lead to over-simplification. Also, in any AI, biases and systematic errors introduced by the algorithms are difficult to catch, thus the tool can only be as good as the people who design it. As reported by the developers, the accuracy score of scite in classifying a list of test papers into mentioning, supporting, and contrasting is 97%, 64% and 59% respectively. It is expected that the accuracy of the classifiers can be trained to improve over time.
Further reading
Josh M. Nicholson et al. (2021). scite: A smart citation index that displays the context of citations and classifies their intent using deep learning. Quantitative Science Studies. https://doi.org/10.1162/qss_a_00146
– By Research Support Services, Library
Hits: 983
Go Back to page

Top
published November 8, 2021