We are excited to share this good news: HKUST started our full-feature subscription to scite, a database that analyses citation contexts; and we renewed Altmetric Explorer, a tool that captures online mentions of research papers.
Scite
Overview
Scite.ai is a smart citation index that displays the context of citations and classifies their intent using AI. Scite uses access to full-text articles and its deep learning model to tell you, for a given publication:
How many times it was cited by others
How it was cited by others by displaying the text where the citation happened from each citing paper
Whether each citation offers supporting or contrasting evidence of the cited claims in the publication of interest, or simply mentions it
Ways to Use Scite
Scite is a tool suitable for students and researchers of various levels and research backgrounds. For example, with scite you can:
Speed up literature review and identify critical analysis: Search for papers in a topic, then sort the result by the most supported or most contrasted (Figure 1). This way, the papers at the top of your lists should help you engage with your topic with more depth.
Assess if a paper is strong in research method or findings: Filter citations by the sections they were made. A paper cited mostly in the method section is likely to contribute to scholarship differently from a paper cited mostly in other sections.
Perform Reference Check to let you easily see if any references in a document have been disputed or retracted (Figure 2). Tip: You can run a reference check for references in your manuscripts.
Create Custom Dashboards to better evaluate research topics and fields.
Figure 1. Perform a simple search on "Social Anxiety Disorder", then sort the results by "most supported" citations.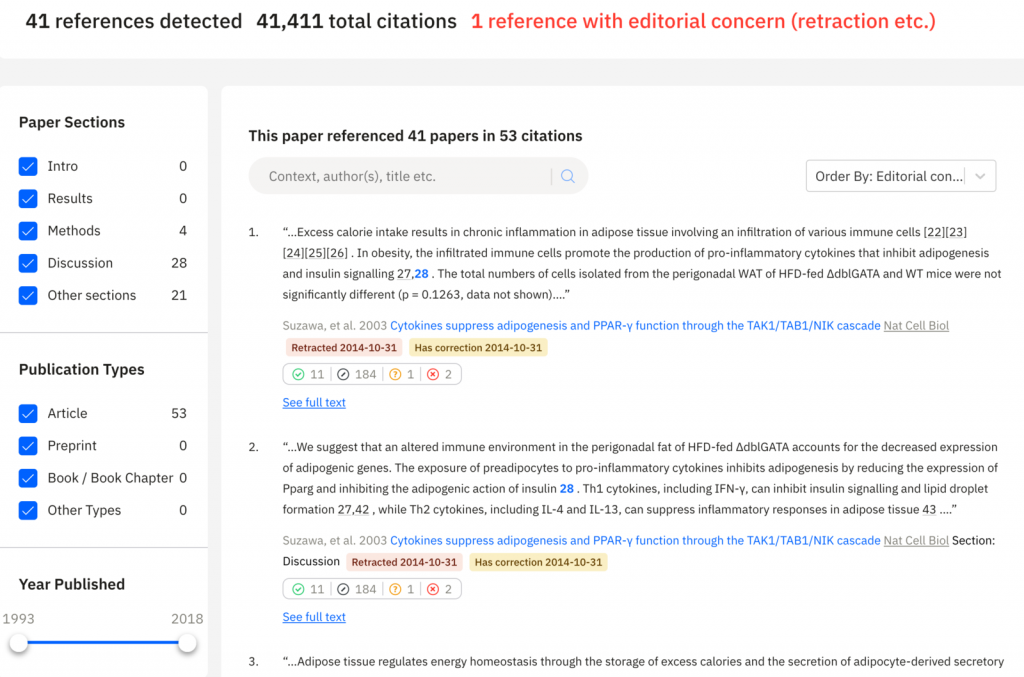 Figure 2. Reference Check output showing how the uploaded manuscript cites each of its references.
Please read our previous post on scite for more details about scite's citation analysis features and more use cases.
Access
To enjoy scite's premium plus features, HKUST users will need to sign in or create a personal account. After signing in, you can further enhance your profile and publication list by syncing your articles from ORCID, or claim papers manually to collect citation metrics from your articles and to your articles.
Altmetric Explorer
Overview
Altmetric Explorer is an online tool that searches the web for "online attention" of research outputs. Altmetric Explorer captures the attention for all types of research outputs including theses and dissertations, dataset, software and code, etc. Also, Altmetric Explorer pulls data from public policy documents, mainstream media and news outlets, social media platforms (e.g. Facebook and Twitter), patents, etc. By combining traditional research metrics and Altmetrics, researchers can build a more complete and timely picture of impact and engagement of their research outputs.
Ways to Use Altmetric Explorer
Altmetrics can be useful to researchers who are interested to build their online presence and demonstrate the social impact of their work. To make most of the data from the research outputs on Altmetric Explorer, researchers can:
Embed Altmetric badges on website (how? try "Altmetric badge generator")
Use altmetrics to showcase the wider influence of their work or group of works (Figures 3 and 4). Looking at the "Attention Score" section can tell how highly the research output has scored (percentile) compared to other outputs in the same source (e.g. journal) and published within the same time period.
Uncover conservation and identify impacts about their research from news media and policy documents.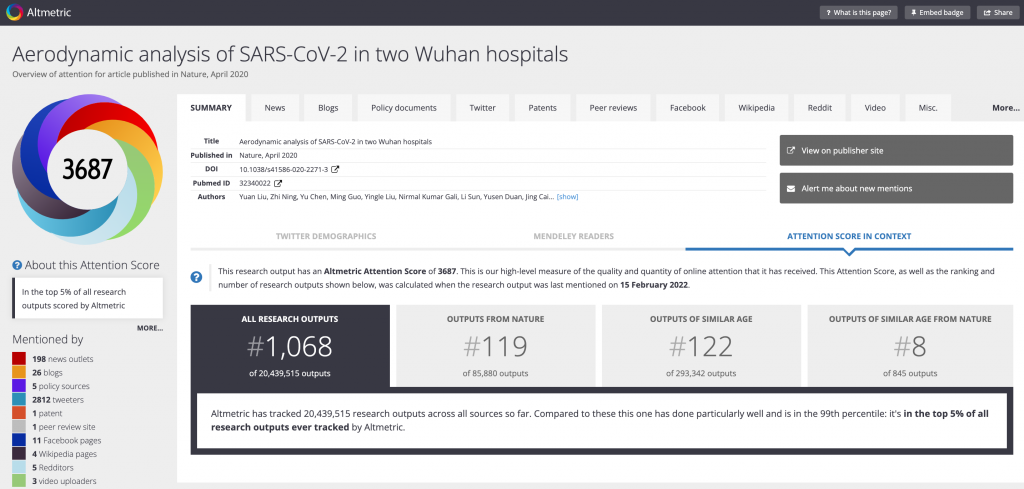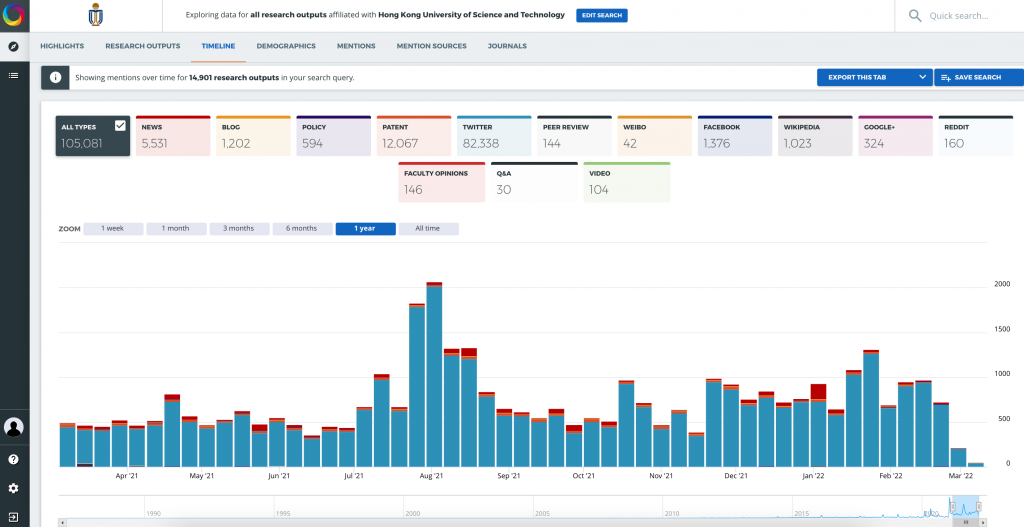 Figure 4. Altmetric mentions breakdown for HKUST research outputs in recent one year.
You can read more about how Altmetrics Explorer captures online attention and how Altmetric Attention Score is made up of from our previous blogpost.
Access
To access Altmetric Explorer, go to Library Homepage (https://library.hkust.edu.hk) > Databases > A > Altmetric Explorer. Sign up for an individual account with your HKUST email to enable functionality including saved searches and email alerts.
We will arrange trainings for these two resources and share usage tips at Research Bridge in the near future. Stay tuned!
– By Jennifer Gu, Library
Hits: 402
Go Back to page

Top
published March 10, 2022